The Distinguished Gentleman's Drive
We probably all know someone who has been or who is currently impacted by Prostate Cancer. That's why once again this year I am participating in The Distinguished Gentleman's Drive which raises funds for cutting-edge research into prostate cancer and mental health programs, as part of their mission to support men's health globally. These funds are invested by their partner, Movember, which is the world's largest men's health organization.
I'd be very grateful if you would consider sponsoring me and my 1925 Alvis SC 12/50 as we take the drive this coming Sunday, September 24th to raise money for this important mission. Any amount is greatly appreciated to help me reach or better still exceed my goal of $1,000. No matter how small, every little bit counts! Thank you!
Click on the link below and you will be directed to my donation page.
https://www.gentlemansdrive.com/driver/JohnLayzell4955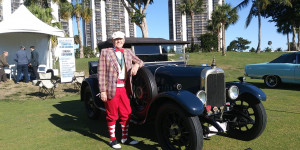 The Distinguished Gentleman's Drive
Greetings all! We probably all know someone who has been or who is currently impacted by Prostate Cancer. That's why once again this year I am participating in The Distinguished Gentleman's Drive. Click on the link below and you will be directed to my donation page. https://www.gentlemansdrive.com/driver/JohnLayzell4955